Costume Rentals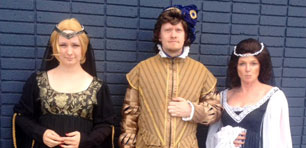 The Costume Shoppe has been creating and collecting costumes for rental for decades! Over 50,000 costume pieces make up our collection, from which we can create the perfect look for you. Interested in wearing a unique, created-on-you look for your next costume party? Then a The Costume Shoppe rental is what you need.
Whether your theme is from History, from places around the world or from Pop Culture, we have the pieces and the know-how to bring the look together.
Call to set up an appointment with one of our rental experts 403-571-2466.