Posted by Madison on Mar 07, 2018
Historically held as religious celebration, St Patrick's Day (or the Feast of Saint Patrick) marks the traditional day of death for the infamous religious figure. Made increasingly popular throughout North America, the holiday first began to gain traction approximately around the 18th century and has stuck around ever since! Although practices have evolved over the years, celebrations generally include festivals, music, and the donning of green attire!
In western culture the phenomenon of St Paddy's Day has become an extravaganza filled with shades of green and pints of beer! It is also historically recognized that Lenten restrictions on eating and drinking alcohol were lifted specifically for the holiday, thus encouraging and starting the tradition we see today!
If you want to make to most out of this cultural holiday, suit up and join in on the celebration this March 17 th! If you are in the Calgary area, grab something green and consider heading down to the ' All Things Irish Festival' in Willow Park for food and beer! If you are more of a Sports fan the Calgary Roughnecks have you covered instead with a St Patrick's Day Party and Lacrosse game, while Heritage Park is perfect for local foodies with their planned dinner and live music!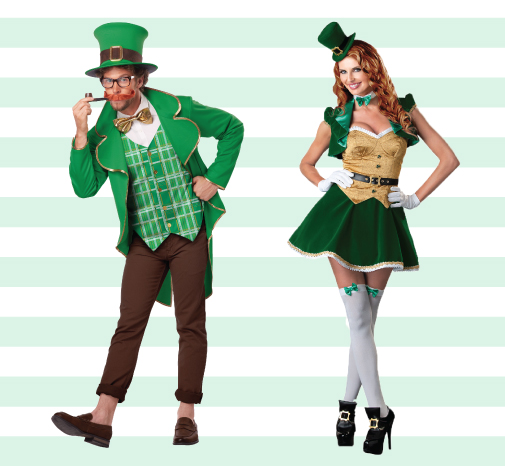 From lovely lasses to lucky leprechauns, there are plenty of options to choose from when considering your celebratory attire! The Costume Shoppe carries everything from bushy beards and mustaches, to green accessories, giving you all the pieces you need to put together and inspire a truly Irish ensemble!