Posted by Melissa B on Feb 19, 2016
Party like its 1920! We here at The Costume Shoppe embrace and enjoy this formal theme because there's various versions to embrace. The 1920s was a time of a booming stock market that minted millionaires by the minute. Those who had the money funded lavish investments in New York's classic skyline and fashioned whimsical parties where inhibitions were set free. This was truly a decade of opulence and class. Part of what makes the 20s a "swinging good time" is the attitude; party like booze is illegal and there's money to burn!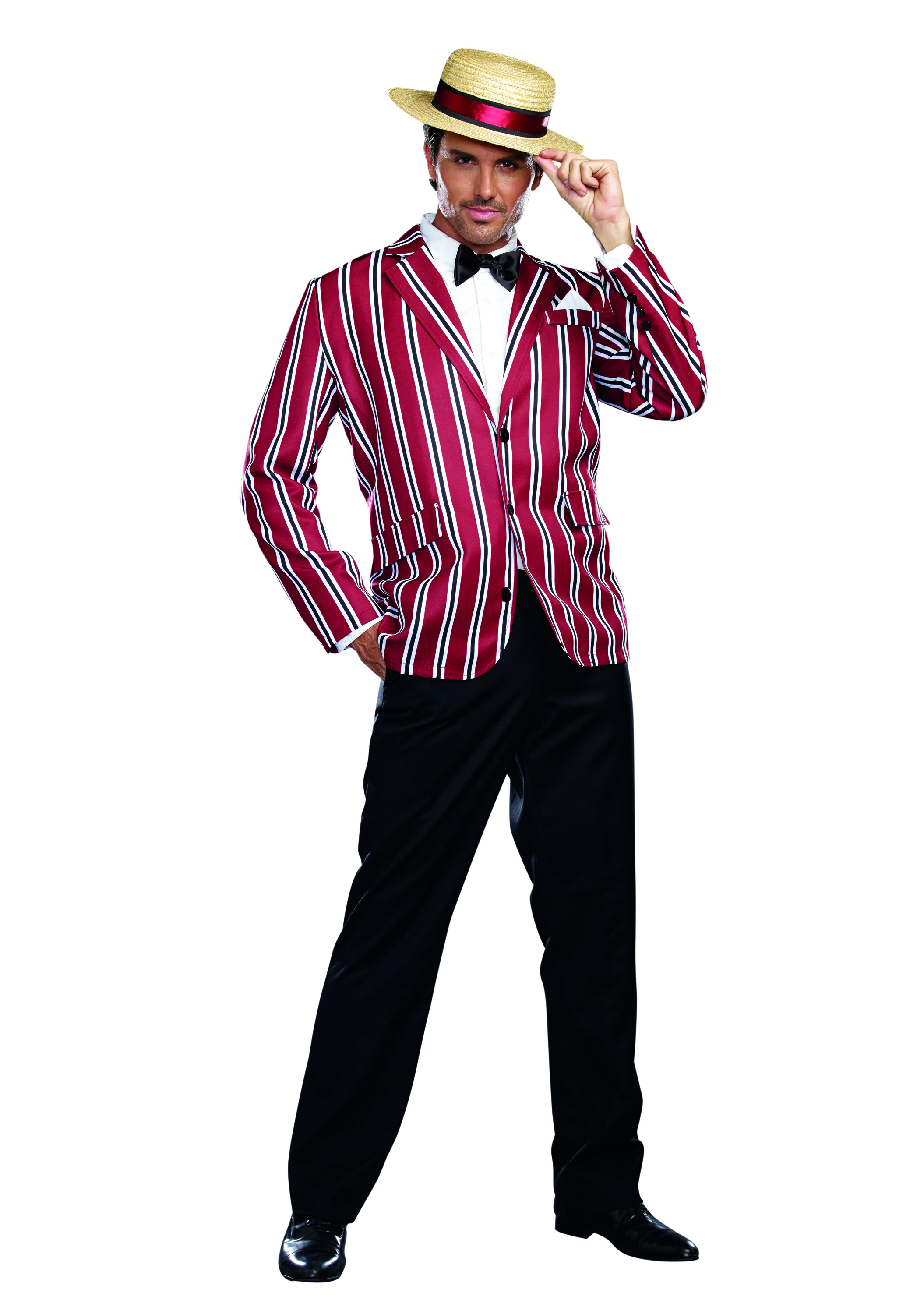 Gentlemen dressed rather formally, tux and tails while going to a swanky black tie evening. Casual 1920s Ivy League versions include turtle necks, tweed suits, oxford cardigan sweaters and coastal linen slacks topped with a flat cap hat. Bold Striped jackets topped with beige Straw boater hats were great at showing the inner entertainer, why don't you offer the guests some gin? The Wall Street rich and powerful could be seen in power suits accented with rich colours such as burgundy, navy and gold.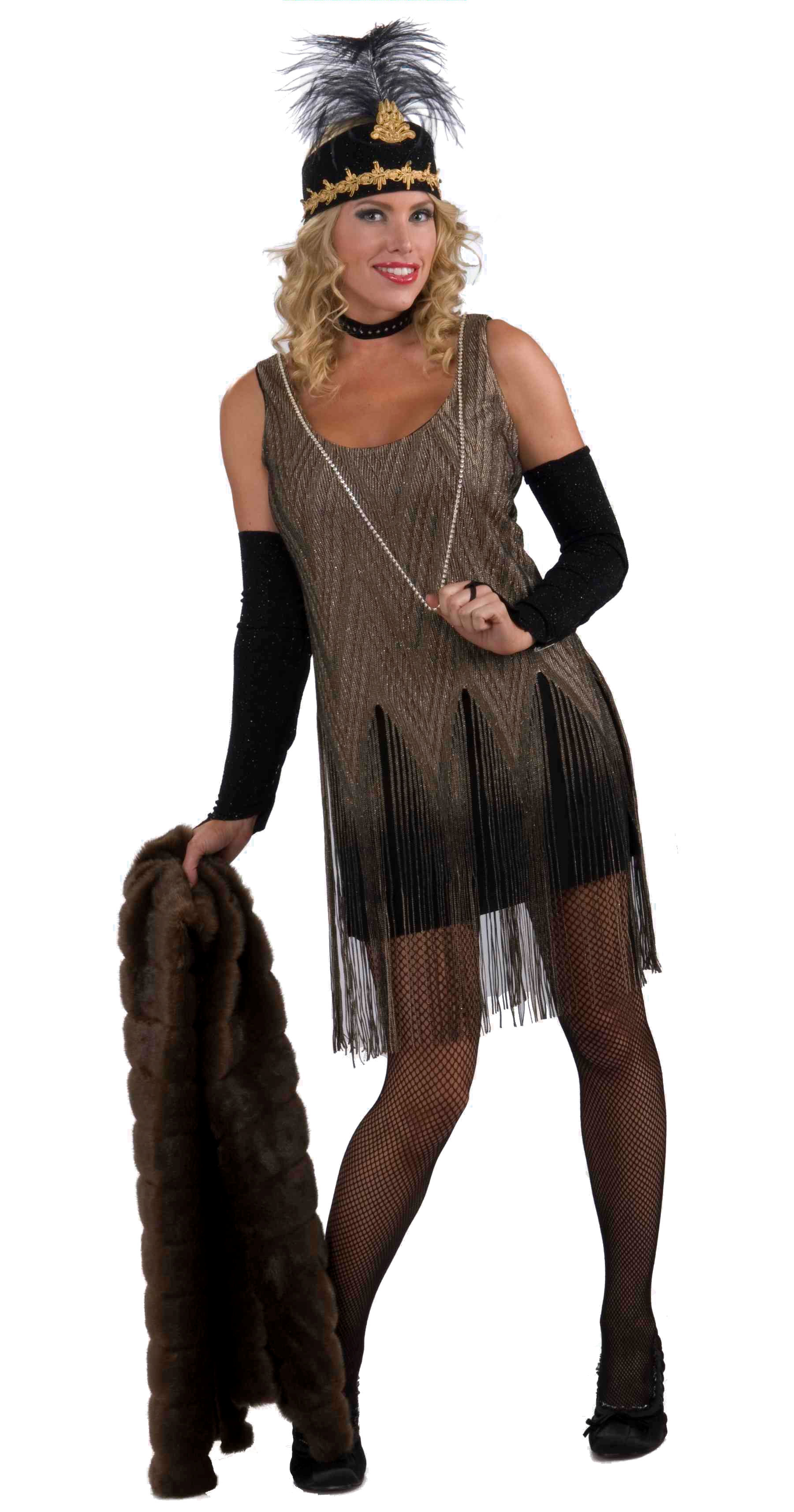 In exactly 1920, the famous prohibition started. Drinks were still available at Speakeasy or underground clubs. More and more opened due to demand, and where there's demand, there's always someone looking to make an illegal dollar! Bootleg liquor gave way to organized Crime, like the famous Gangster Mafia Leader, Al Capone.During this decade, women moved to knee-length skirts and dresses over modest dresses. Most dresses of the era included ornate art deco beading, layers of lace and fringe trim. Most recognizable is the fringed flapper dress. Usually worn by bold women, who else would flaunt this unconventional dress and behave wildly? Add a long string of pearls, head band and gloves for a berry good time! For a more formal affair, a black dress made from luxurious velvet or layers lace accessorized with gloves, fur and feathers for an exquisite taste.
The overall look for a male gangster is a patterned Zoot Suit, which is a suit that features high waisted pants, and a boxy-cut jacket. You need suspenders, a skinny tie, spats and a fedora to complete the Mob suit. Commonly paired up with an audacious flapper, these two can cause trouble at your next costume party. All of these costumes are available to rent here at The Costume Shoppe.
If you like the idea of lawlessness and rebellion, there are other ways you can NOT conform to the classic glamorous twenties attire, and still be considered in the era. Show up in good form as Babe Ruth, the famous Pilot Charles Lindbergh with aviator accessories. You can even make a DIY Stock Market costume and mint everyone at the party as overnight millionaires!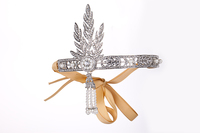 Start out the new years with a fresh look with a classic splash of the twenties for your next formal gathering. Add your own unique touch to complete your simple black dress with accessories here at The Costume Shoppe. We have replica 1920s headbands with art deco flare, pearls, fedoras, spats, cigarette holders, gloves and fluffy boas for that perfect touch.