Posted by Madison on May 03, 2018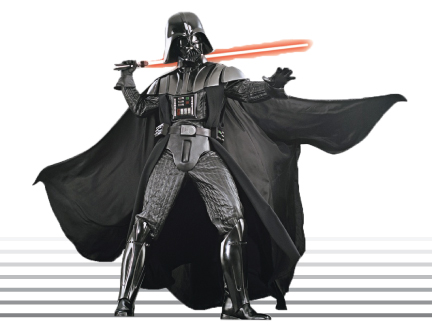 Known also as Anakin Skywalker, the character Darth Vader is as iconic in his series as he is in popular culture. Who wouldn't want to be the most intimidating member of the First Order? We carry several different Darth Vader costumes in varying sizes and quality, such as our regular Darth Vader Adult Star Wars Costume, the Supreme Darth Vader, and the Deluxe Children's Darth Vader Costume! As for things to accessorize with, we have a list of products with voice changers, gloves, and light sabers to get you prepared for battle!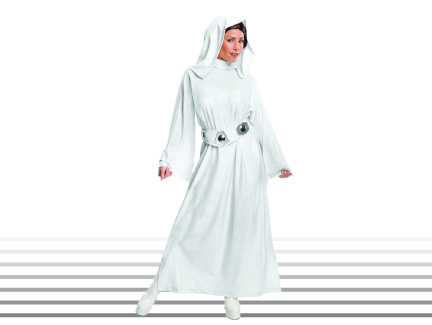 Princess Leia Organa of Alderaan is more than just a princess, with millions of fans around the world this well-loved female character will never be unloved by the crowd! Take a step into the heroines shoes and adorn yourself with the Star Wars Supreme Princess Leia Costume, of which includes the iconic hooded dress, a belt, and a character wig! We also carry the Princess Leia Slave Girl outfit, making sure you have plenty of options to choose from when piecing together your ensemble. With added bits from wigs to blasters, you will be ready to take charge in the rebellion in no time!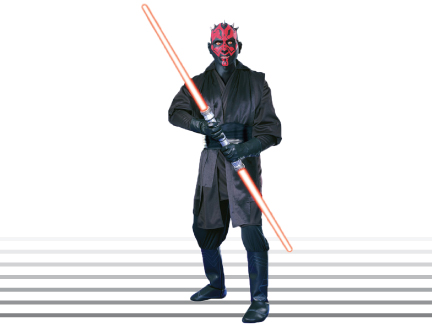 As the leader of the criminal army the Shadow Collective, Darth Maul is a tough foe, taking on the Empire with a steady quest for revenge. If you want to look your scariest consider selecting the Deluxe Star Wars Darth Maul Costume! Or, if spandex is more your thing the Darth Maul 2nd Skin Bodysuit has you covered. Don your own unique light saber from our collection and head out to squish the Rebellion!
Here at The Costume Shoppe we also have varieties of other well-loved personalities, including Luke Skywalker, Chewbacca, Han Solo, and more! Other than the main classic cast of characters in Star Wars we also carry anything from Men's and Woman X-Wing Fighter outfits, to toddler Ewok Rompers, and even R2D2 Pet Costumes! Who said you had to dress up alone? Check out everything Star Wars that The Costume Shoppe has to offer and shop online for costumes and props!