Posted by Rita V on Nov 26, 2015

Winter is here and the Masquerade Party season has begun. Calgary has several popular Masquerade parties that happen on New Years and during the holiday season. Be ready for your next masked ball with our wonderful selection of Masks. They come in a wide variety of styles and colours that ensure that you will find the perfect, unique mask for your event. We are conve
niently located at the corner of Blackfoot Trail and 42nd Avenue in Calgary. Easy to find, easy to get to and easy to park!
Masquerade Balls have been popular for hundreds of years, starting as part of the Carnival celebrations of the 15th century. They were incredibly popular in Italy during the Renaissance, particularly in Venice. When many people think of Masquerades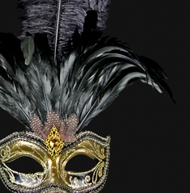 it is Venetian masks and the Venetian Carnival that comes to mind. The Masquerades in the 15th to 19th centuries were quite formal affairs with elaborate outfits and dancing. The modern popularity and revival of Masquerade parties picked up in the 1990s. Today the party atmosphere is more emphasized than in earlier eras.
The majority of our Masquerade Masks are handmade and imported from Italy, from a Venetian mask company called Carta Alta. All of the Carta Alta masks are made using a mix of traditional Venetian techniques and new decoration techniques. The masks are made of papier-mâché and adapt to comfortably fit the wearers face. Most of the masks have ribbons attached to tie the mask into place around the head. All of these masks are handmade and unique, the designs are hand painted and can vary slightly from year to year.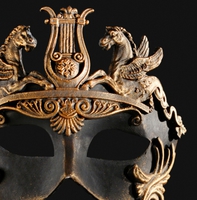 The Costume Shoppe carries several different styles of Masquerade Masks from Carta Alta. The Colombina Eye Masks have a classic look to them. They come in several designs and feature details like hand painted glitter designs or gold stucco like decorations. The Baroque Mask come in colours like gold, silver, and bronze and feature ornate and highly detailed decorations and an antique wash. We also have several Feathered Masks that come in a variety of colours to match any outfit. The highlight of these masks ostrich and coque feathers that add flair to any costume. The Lux Masks feature intricate laser-cut metal filigree decorations. Some of the Lux masks are made entirely of black laser-cut metal. The last style of Carta Alta masks are the theatrical masks, many of which are based off of traditional Venetian comedy. These masks include the classic Bauta, long nosed Naso, and characters like plague doctors, devils, or jesters.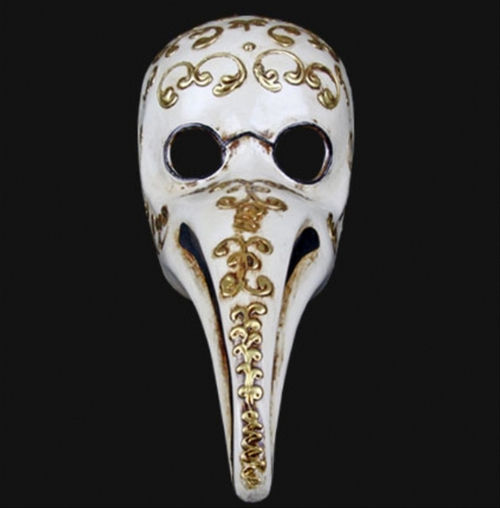 This vast selection of Venetian Masquerade Masks will let you find the perfect mask for your event. The authentic Venetian masks range from $30 - $180. The best part about buying a unique handmade mask is that they are all very beautiful pieces that can be put on display after your event is over. These masks are perfect for impressing at a New Year's party, charity or black tie event.