Posted by Margot on Oct 25, 2017
As the big party weekend for 2017 Halloween approaches, The Costume Shoppe is open even later! Wednesday - Friday (October 25, 26 & 27), we will be open for your shopping pleasure until 10:00 pm! Saturday Oct 28 and Sunday Oct 29th, we will be open until 8:00.
Wednesday, October 25th: 9:30 am - 10:00 pm
Thursday, October 26th: 9:30 am - 10:00 pm
Friday, October 27th: 9:30 am- 10:00 pm
Saturday, October 28th: 10:00 am - 8:00 pm
Sunday, October 29th: 10:00 am - 8:00 pm
Monday, October 30th: 9:30 am - 9:00 pm
Tuesday, October 31st: 9:30 am - 7:00 pm - Happy Halloween!
And pleasurable shopping it will be... we have 1000s of costumes for you to choose from... we don't run out of stock. Though we may be sold out of a few styles, there are so many great options to choose from still. We keep our stock well organized, you'll have no problem finding just the right thing to create your own special Halloween look.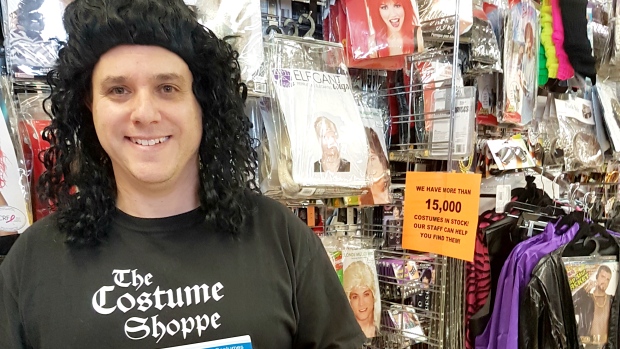 CBC Calgary talked to Ryan this week to get the skinny on the popular costumes for Halloween this year, you can read all about it here: Mullets make a comeback in Calgary as Jagr among top Halloween costume picks You read that right, Jagr style mullets are a super easy costume anyone can wear this year. Also popular is IT style scary clowns and USA politicians. Other than that, expect to see the traditional Halloween favourites both scary and funny costumes are always popular.
Come on down and see us soon... we have SO much stuff to show you!