Posted by Rita V on Feb 17, 2016
Here at The Costume Shoppe we love our superheroes and we know you do too! The year is off to a big bang with the awesome Deadpool movie that premiered last weekend, breaking all kinds of box office records. 2016 is looking like an amazing year for Superhero movies, from both the Marvel and DC universes. If you are looking for an epic superhero costume this year, we have you covered!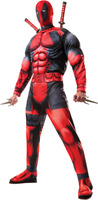 The Marvel Universe is off to a great start this year with the totally awesome Deadpool movie. We have an awesome Deadpool costume and a matching accessory kit with prop katanas and sai knives. If the "Merc with a mouth" isn't your taste then the upcoming Captain America: Civil War movie is sure to satisfy your superhero cravings. The new Captain America is set to feature fan favorites like Iron Man, Captain America, Black Widow, and the Winter Soldier among others. It will also serve as the introduction of several new characters into the Marvel universe like Black Panther. Whether it is Captain America, Iron Man, or other Avengers and Marvel superheroes, we have great quality costumes and accessories here that will ensure you are ready for Conventions or Halloween!
On the other side of the superhero fandoms we have the highly anticipated DC universe film, Batman vs Superman. Who isn't ready to see two of the most popular superheroes ever butt heads? We have you covered if you are looking for an awesome Batman, Superman, or Wonder Woman costume. Or maybe you don't want to stick with a conventional superhero this year. With the upcoming Suicide Squad movie you won't have to! We are eagerly awaiting the new costumes from Suicide Squad for characters like Harley Quinn, Katana, The Joker, and Deadshot. These anti-heroes are sure to be a hit this Halloween!
Whatever fandom you are a part of, 2016 is set out to be a pretty epic year! We are certainly looking forward to all of the new costumes we will be getting in like Black Panther, the Suicide Squad crew, Armored Batman, and more! So make sure you are ready to show your superhero love at conventions or make this next Halloween a totally awesome one with a new superhero costume!