Posted by Madison on Jun 22, 2018
Today, June 22nd of 2018, marks the long awaited debut for Jurassic World: Fallen Kingdom! With the return of this classic and popular franchise there are kids and adults alike that are excited to once again publicly display their love of dinosaurs!
Here at The Costume Shoppe we have you covered with various styles of Dinosaur and Jurassic Park themed costumes and accessories. Whether you're heading out to a movie marathon party, or a theater viewing, why not make a statement?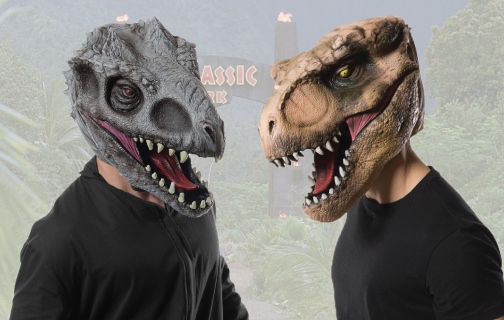 If masquerading as a large powerful beast is what gets you excited, consider a molded latex mask! The Indominus Rex full-face mask is highly detailed, gray, and is made to the appearance of the genetically modified dinosaur from the first Jurassic World! Or, if you prefer a more classic appearance you can put on the Deluxe T-Rex and become the iconic meat-eating dino that everyone loves!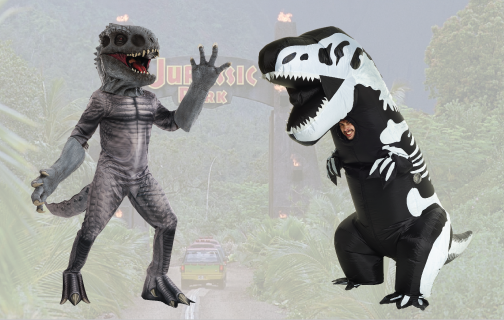 If you want to be larger than life, we certainly have you covered! The Indominus Rex Creature Reacher costume comes with full body outfit and an over sized head and hand pieces. You will grow and size and will intimidate passersby. The Inflatable Giant T-Rex Skeleton on the other hand is large in size, yet less scary in appearance. With a black body and skeletal shapes of a T-Rex's body create the visuals of the costume.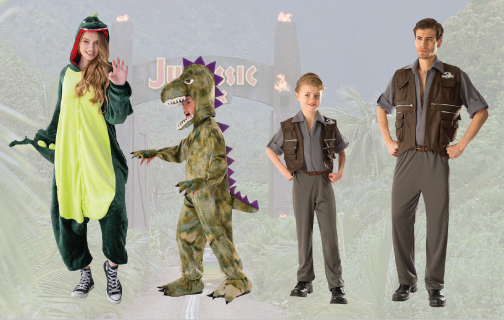 For more mundane outfits you can take a peek at both our Adult Jurassic World Owen costume and our Deluxe Kids Owen costume. We also carry Adult Dinosaur Onesies and full body Plush Dinosaur Children's Costume! Show your love for the film series and/or prehistoric creatures all at once and enjoy a new movie in style!