Posted by Katie V on Dec 07, 2015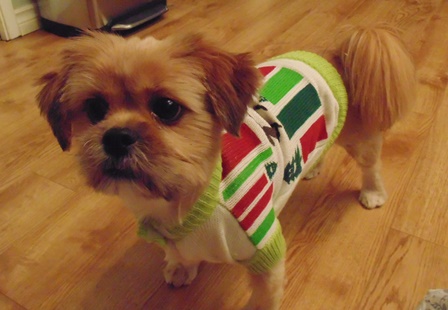 The holidays are coming and with it comes parties and fun events. What do you wear? Not just for your Grandma anymore, the Ugly Christmas Sweater is here to stay. It is growing in popularity and everyone seems to be have one. We've all looked through those sweaters that our Grannies and Aunts have given us or rummaged through the thrift shop aisles to find the ugliest one. But what about the other important personality in your life? Your lovable dog wants to get in on the action too.
Here at The Costume Shoppe we love our dogs too so why not dress them up? This year we got in the cutest Ugly Christmas sweaters for your dog! There are two knit sweaters in stock right now. One is a red and white argyle with a big Christmas tree embroidered patch. The other has red and green stripes with reindeer and grinning Christmas trees. Both are easy to wear with Velcro along the belly. We don't want Fido to feel left out at your next Ugly Christmas and he may win a prize or two! No party? Put her in with the family on your Christmas card or give the neighbours a smile when they see her keeping warm outside.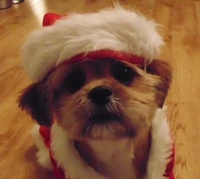 If Ugly Sweaters aren't your thing but still want the family dog in on the fun than some of our other pet costumes might be for you. Santa Claus, an Elf, Reindeer or even a Camel! Or dress Fido up for your family photo shoot in our plaid bow tie or scarf. Come on in and try them on! (Oohing and awwing will most likely take place). Alternatively take advantage of our 10 day return policy and bring it back if it doesn't fit. We are conveniently located at the corner of Blackfoot Trail and 42nd Avenue in Calgary. Easy to find, easy to get to and easy to park!
Click to browse all pet costumes.