Posted by Madison on Jun 29, 2018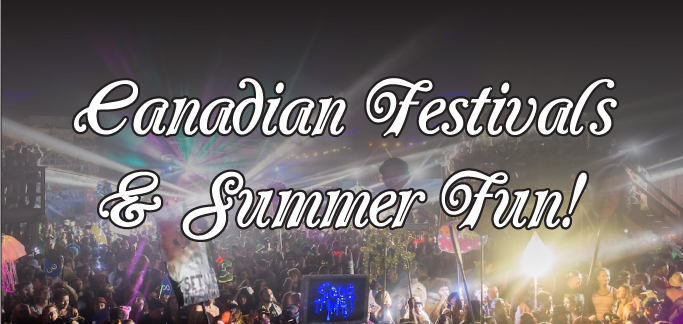 With June 21st set as the official beginning of summer, things are starting to ramp up in and around the city! This time of year not only brings fluorescent flowers, warm sunshine, and long days, but it also marks the beginning of the majority of Canadian Festivals! With each New Year brings the continued growth and popularity of festival culture, including the eco-friendly groups that form around many of these events. Incorporating different focuses and themes, each unique festival has its own values and personal identity.
One such example is Freezerburn, a regional Albertan Burning Man celebration! Attracting thousands of people and rising in popularity Freezerburn features amazing artists, musicians, and a friendly and diverse community. People of all ages attend this event, with the average attendee being 36 years old. Although the event has just ended, many more are on the horizon!
Shambhala is one of these upcoming festivals, with August 10-13th as their official 2018 dates. Built around music performances and line-ups, this gathering also offers a connection with nature and diverse grounds filled with new innovations, art, and more. Held in Nelson, BC this world renowned festival also offers a chance to bring out your creativity with eccentric outfits, unique body paint, or whatever your heart desires.
Some other upcoming events to keep your eye on are Calgary's 'Chasing Summer' music festival if you are interested in great company and tunes, and The Evolve festival in New Brunswick which is a celebration of music, culture, and social awareness. Another local Albertan even is Astral Harvest near the town of Driftpile which is taking place mid July, and with music, art, and movement workshops there is an activity for everyone! Reign Bough Fiddle out of Smoky Lake in Alberta is also up and coming gathering which is starting this very weekend for those eager to get going!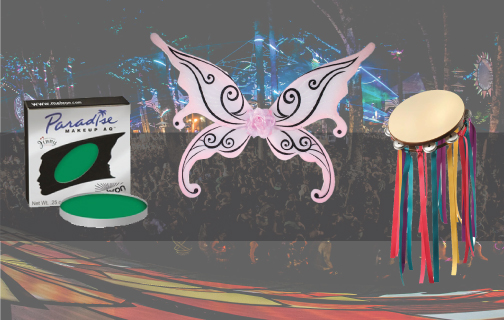 While planning for your journey you may find yourself in need of some creative supplies! Here at The Costume Shoppe we carry a variety of different items perfect for shaking your booty in. From our Mehron Paradise makeup and split cakessplit cakes, to feathered AND featherless boas, colourful Rockstar wigs, and more, you'll leave prepared and ready to rave! We even carry whimsical props such as fairy wings to make you magical, or fun pieces like a rainbow tambourine to give you a pop of color.